Family.net — simplifying the complex
Browse case
Challenge
Make it Simple
To come up with a visual structure and navigation layout that would allow the user to easily get around multiplicity of available functions such as: contact list, calls and messages management, IVR menus, spam control etc.
Vision
Platform for all ages
To make the interface familiar and easy-to-use we found the most comfortable combination of fonts, contrasts and spacing, and build intuitive interface navigation to accommodate the needs of users of all ages, sexes and nationalities.
Soft and cozy
What made this project unique design-wise, was the need to take a generally corporate office-oriented product and wrap it in a soft, cozy, understandable user-friendly shell that would make it suitable and desirable for family use.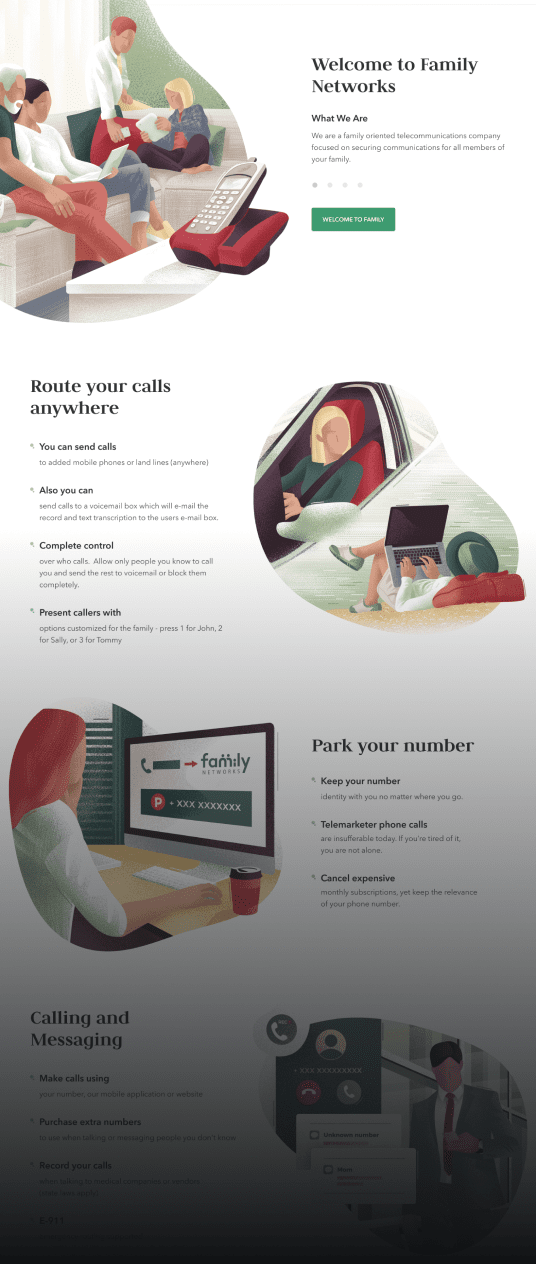 Process
Thorough and consistent
Landing page
Copy text and page mockup
Illustrations
Concept, color and style
Final design
Platform specifications
Business analysis
Wireframes
Concept design
Platform design
Design for main flows
Design for all states and use cases
Mobile version
Dev-ready delivery
Process
Fun facts
More than 250 screens and screen states were created for desktop version only. On top of that we produced more than 100 additional screens for the mobile version.
"I think you all are amazing … I'm reading the comments and looking at the flow just thinking about it… Worth every penny… "

Jarrod Baumann
Telegents, LLC